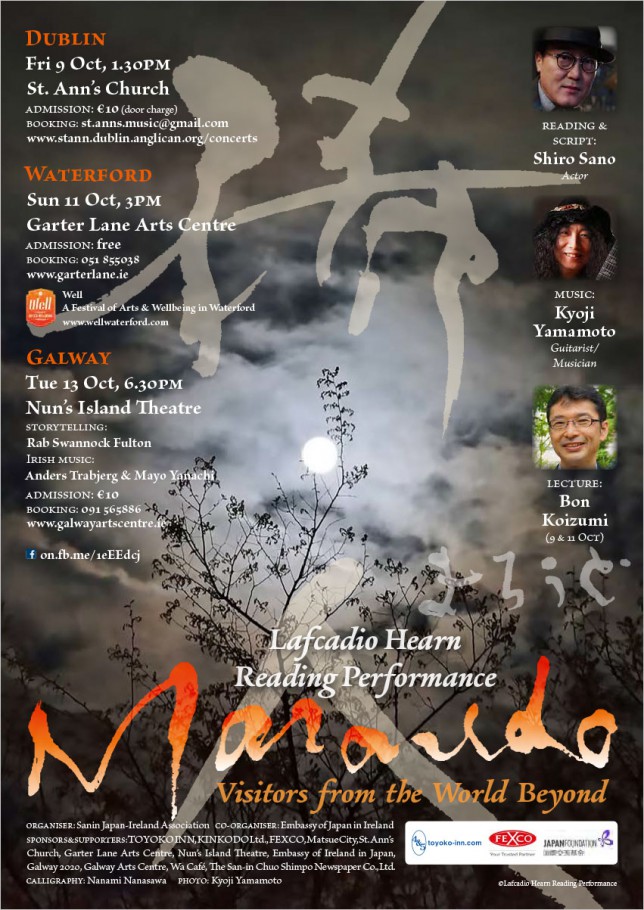 PDF file
(1.3MB)
The "Lafcadio Hearn Reading Performance" has been held annually in Matuse by the coordinated efforts of the actor Shiro Sano and guitarist Kyoji Yamamoto, who are renowned for their spectacular performances in Japan and on the international stage. Their tenth annual performance, entitled "稀人 Maraudo — Visitors from the World Beyond," will be held this October in Ireland with three truly dramatic and memorable reading performances. Last year, an audience of more than eight hundred spectators in Greece was completely dazzled and absorbed in a performance that spellbound all regardless of the linguistic barrier. The immeasurable role of these performances to introduce the literary and spiritual nature of Hearn's body of work is significant as, like Japan, Ireland has a long and rich oral tradition of storytelling, myth, legend, folklore and traditional music.
With a lecture of Bon Koizumi, great-grandson of Lafcadio Hearn (in Dublin and Waterford), enjoy the world of Lafcadio Hearn's literature.
Dublin
date: Friday 9th October, 1.30pm
venue: St. Ann's Church, Dublin
admission: €10 (door charge)
booking: st.anns.music@gmail.com
www.stann.dublin.anglican.org/concerts
Concerts | St Ann's Church of Ireland
Waterford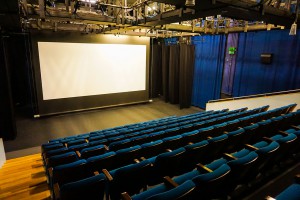 date: Sunday 11th October, 3pm
venue: Garter Lane Arts Centre, Waterford
admission: free
booking: 051 855038
www.garterlane.ie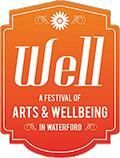 Garter Lane Arts Centre, Waterford, Ireland
Galway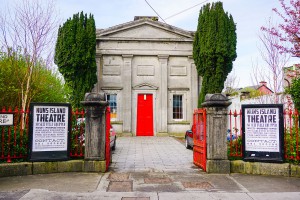 date: Tuesday 13th October, 6.30pm
venue: Nun's Island Theatre, Galway
storytelling: Rab Swannock Fulton
Irish music: Anders Trabjerg & Mayo Yanachi
admission: €10
booking: 091 565886
www.galwayartscentre.ie
The Open Mind of Patrick Lafcadio Hearn – Coming Home Lafcadio Hearn
---
Program
Lafcadio Hearn's Brother (Atlantic Monthly, January 1923)
Hi-mawari (Kwaidan, 1904)
My Guardian Angel (The Life and Letters of Lafcadio Hearn by Elizabeth Bisland, 1906)
Mujina (Kwaidan, 1904)
Chin Chin Kobakama (The Japanese Fairy Tales, 1903)
A Living God (Gleaning in Buddha-Fields, 1897)
Hi-mawari (Kwaidan, 1904)
Commentary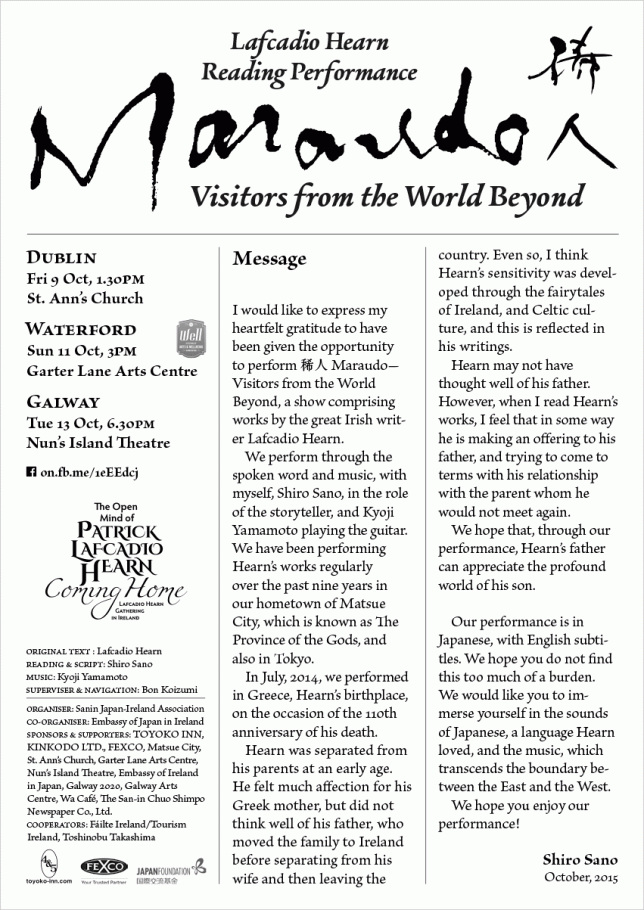 PDF flie (372KB)
---
---
Shiro Sano
Actor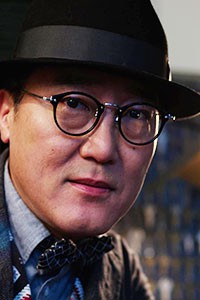 Raised in Matsue.
Shiro was a founding member of "Shakespeare Theatre", a troupe established in 1975. In 1980, he joined another troupe "Gekidan Jokyo Gekijo", which was headed by Juro Kara. He made his screen debut in 1986. In 1999, he produced his first movie Karaoke. He has acted in more than 110 productions, including foreign movies. Interested in the fantastic since childhood, he has long had a fascination with the works of Lafcadio Hearn, many of which are related to Matsue. Through his activities and engagement with visual works, he has developed a deep interest in, and passion for, the world of Hearn. He began "The Lafcadio Hearn Reading Performance" in Matsue in 2006, and this project has now come to occupy a central place in his life and work. His partner in this performance is the guitarist Kyoji Yamamoto. Shiro and Kyoji were classmates at Matsue Minami High School, and deepened their friendship through their mutual affection for music. In 2009, Shiro donated a first edition of The Writings of Lafcadio Hearn: In Sixteen Volumes to the American College of Greece.

Kyoji Yamamoto
Guitarist/Musician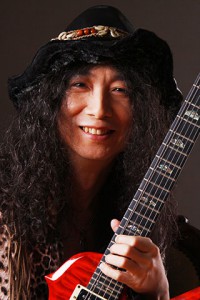 Born and raised in Matsue.
Kyoji began playing the guitar at the age of fifteen, and enrolled in the Yamaha Nemu Music Conservatory three years later. His reputation as an extremely talented guitarist was established right from the start of his career, and he was appointed as the lead guitarist and vocalist of BOW WOW. The band quickly gained popularity through touring with both Aerosmith and Kiss. Kyoji's dynamic playing and exceptional technique led him to become one of the forerunners of the Japanese rock scene. He later formed VOW WOW. Based in London, the band recorded and performed in the UK, around Europe and the US for four years. Highly regarded internationally, Kyoji has influenced some world-famous artists, and is ever-active on the global stage, demonstrating his wide range of musicianship. In addition to releasing several instrumental albums, he holds sessions with jazz-fusion musicians, performs in acoustic recitals, and creates the music for the "Lafcadio Hearn Reading Performance" in collaboration with Shiro Sano. He is also a renowned producer for other international artists.
Bon Koizumi
Professor, the University of Shimane; Great-grandson of Lafcadio Hearn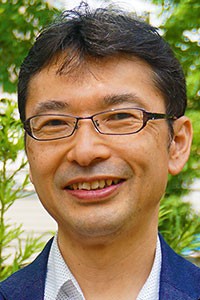 Born and raised in Tokyo, Bon majored in folklore at Seijo University and Graduate School of Seijo University in Tokyo. His work involves the research and discovery of cultural resources for tourism development. For twelve years, he has led the Summer School for Children—Super Hearn Course—, a workshop aimed at nurturing the five senses of its participants.
In addition, he has produced ghost tours in Matsue and several other locations in Japan, and contributed to the promotion of cultural tourism and education. Recently, he has been following in the footsteps of Lafcadio Hearn, travelling around the world and producing various events in cities related to the writer, that focus on Hearn's open mind. Such activities have led to the successful development of partnerships with those cities. Besides his professorship, he is adviser to the Lafcadio Hearn Memorial Museum in Matsue, and director emeritus at the Yaizu Lafcadio Hearn Memorial Museum.
---
Lafcadio Hearn Reading Performance 小泉八雲 朗読のしらべ. 762 likes. 小泉八雲・朗読の夕べ「稀人―彼方より訪れしもの」佐野史郎、山本恭司 Lafcadio Hearn Reading Performance "Maraudo – Visitors from the World Beyond" by Shiro Sano and Kyoji…
organized by Sanin Japan-Ireland Association
co-organized by Embassy of Japan in Ireland
sponsored and supported by TOYOKO INN, KINKODO Ltd., FEXCO, Matsue City, St. Ann's Church, Garter Lane Arts Centre, Nun's Island Theatre, Embassy of Ireland in Japan, Galway 2020, Galway Arts Centre, Wa Café, The San-in Chuo Shimpo Newspaper Co.,Ltd.
cooperated by Fáilte Ireland/Tourism Ireland, Toshinobu Takashima
original text: Lafcadio Hearn
readinf and script: Shiro Sano
music: Kyoji Yamamoto
superviser and navigation: Bon Koizumi
English subtitles: Heather Dixon
stage direction: Nobuyuki Nishikori
assistant direction: Toru Nishikawa
producer: Shoko Koizumi