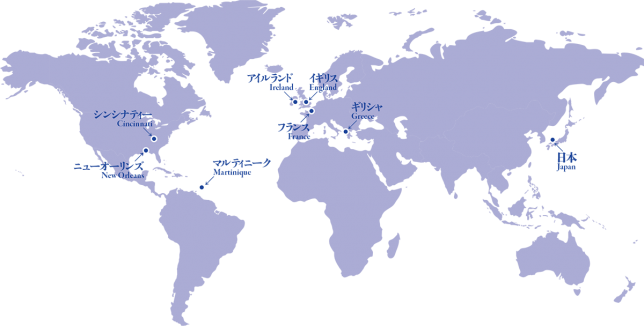 1850—1852 Greece
| | |
| --- | --- |
| 1848 | Charles Bush Hearn, an Irish surgeon in the British army, is sent to Greek island of Kythira, where he meets Rosa Cassimati. |
| 1849 | Charles and Rosa elope to the nearby island of Lefkada. |
| 1850 | Patrick Lafcadio Hearn is born on 27 June. |
1852—1861 Ireland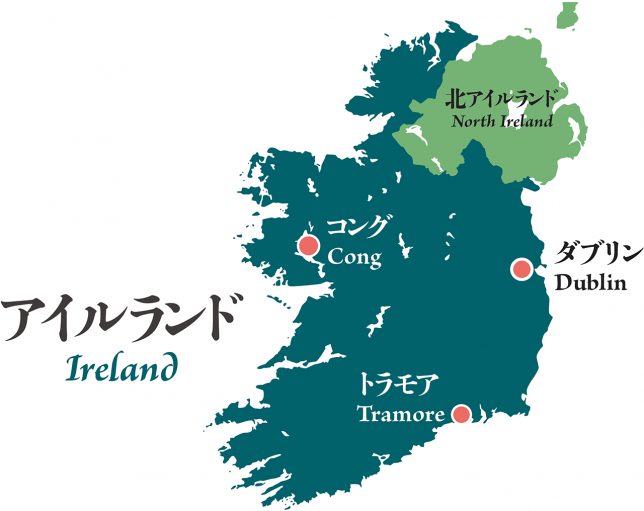 1852
1 August: Lafcadio and his mother Rosa arrive in Dublin accompanied by Richard, the brother of Lafcadio's father Charles.
The mother and child are welcomed by Charles' mother Elizabeth, who is living at 48 Lower Gardiner Street, her daughter Jane, and Charles' aunt Susan.
Rosa and Lafcadio have trouble adjusting to the culture and customs of the Protestant Anglo-Irish Hearn family, and move to 21 Leinster Square, in Rathmines, to live with Elizabeth's younger sister Sarah Brenane, a wealthy widow.


48 Lower Gardiner Street, Dublin

21 Leinster Square, Rathmines, Dublin

1853
8 October: Charles returns from Grenada, and meets his son for the first time.
9 October: The family gathers at the Hearn family house for dinner. (During the evening, Rosa senses that Charles no longer loves her, and becomes temporarily deranged.
1854
21 April: Charles is sent to serve in the Crimean War.
Overcome with homesickness, Rosa, now pregnant, returns to Kythira.
Catherine Costello is employed as a nurse to take care of Lafcadio.
12 August: Lafcadio's younger brother, James Daniel, is born.
1855
Sarah Brenane moves to 73 Upper Leeson Street, where Lafcadio is raised.
Lafcadio finds the long, dark Irish winters terrifying. Every night, he is locked in a room called the Child's Room. This is a traumatic experience for the young boy.
One night, he sees the ghost of Jane, a guest staying at the house.

Lafcadio Hearn and his grandaunt Sarah Brenane

73 Upper Leeson Street, Dublin

From around this time, he spends his summers with Sarah at a villa in Tramore, County Waterford. There, he learns to swim in the sea.

Sarah Brenane's villa, Tramore

The Strand of Tramore

1856
Charles returns from Crimea, and is given leave from March to October.
13 July: A British infantry regiment parade is held in Dublin. Charles lets Lafcadio ride his horse in the parade, and takes him to the dinner party afterwards.
Charles considers divorcing Rosa, and marrying his first love Alicia, who is now a widow. When he returns to Ireland, he visits Alicia at her home at 81 Lower Gardiner Street.
1857
Charles is granted a divorce from Rosa under British law. He visits Lafcadio in Tramore to tell him about his marriage to Alicia.
18 July: Alicia and Charles are married at St Thomas Church. On 4 August, Charles, his new wife and her two daughters leave for India.
Rosa marries John Cavallini, the owner of a shipping company on Kythira. Lafcadio's younger brother James is sent to Dublin. As a condition of the marriage, Rosa signs an oath, promising to have no contact with her sons. She never sees them again.
Lafcadio meets James for the first and last time.
1858
Lafcadio reaches school age, and is homeschooled by a tutor.
Around this time, Lafcadio visits Cong in County Mayo, the home of Charles' older sister Catherine Elwood. He plays with his cousin Robert and is exposed to Celtic folklore. (This experience is described in "Hi-Mawari".)


Strandhill, Cong

Ashford Castle, Cong

Lafcadio spends his summers in Bangor in North Wales. There, he enjoys playing in the sea, and is captivated by the stories of foreign lands he hears and the exotic antiques he is shown.
Lafcadio's half-sister Elizabeth Sarah Maude is born.

1859
His half-sister Minnie Charlotte is born.
1860
His half-sister Posey Gertrude is born.
1861 France
1861
Lafcadio attends a church school in Normandy, France. He is said to have mastered French during this time, however, this is not certain.
Catherine Elwood, his aunt living in Cong, dies.
Charles' second wife, Alicia, dies of malaria in India.
1862
Elizabeth, Lafcadio's grandmother, dies at the age of 71.
1863—1868 England
1863
In September, Lafcadio enters St Cuthbert's College, a Catholic boarding school at Ushaw, near Durham in England. There, he rebels against the strict religious education.
1866
While playing a schoolyard game called Giant Stride, he is struck in the left eye by a knotted rope. He is treated in Dublin, but loses the sight in the eye.
21 November: Charles contracts malaria and is discharged from the military. He dies aged 48 on board a ship in the Gulf of Suez on the return journey to Ireland, and is buried at sea.
1867—1868
Henry Molyneux, a distant relative of the Hearn family fails in a business venture. Sarah Brenane, who invested in this business, declares bankruptcy, and Lafcadio is forced to leave St Cuthbert's College.
Lafcadio turns to Catherine, a former maid of Sarah's, for assistance, and moves to London where he lives in misery and poverty.

Grave of Sarah Brenane at the Holy Cross Church, Tramore
1869—1877 Cincinnati, USA
| | |
| --- | --- |
| 1869 | He travels from London in England or Le Havre in France to New York, America in an immigration boat. Hearn spends the first several years in Cincinnati in extreme poverty. Meets Henry Watkin. |
| 1872 | Publishes his first article in the Cincinnati Enquirer. |
| 1874 | Becomes a regular member at the Enquirer. |
| 1875 | Marries Alethea (Mattie) Foley, a Creole woman, miscegenation law gets him fired by the Enquirer, but he is hired by the Cincinnati Commercial. |
1877—1887 New Orleans, USA
1877
Separates from Mattie and leaves for New Orleans.
1878
Hearn becomes a regular staff member at Daily City Item.
1879
Hearn opens a 5 cents restaurant "The Hard Times" (160 Dryades Street), but closes only after 20 days as his partner runs away with the takings.
1881
Becomes literary editor at the Times Democrat.
1882
His mother Rosa dies on 12 December at the National Mental Asylum in Corfu, Greece.
Elizabeth Bisland joins the Times Democrat, interested in Hearn's article. He starts to interact with a young doctor Rudolph Matas.
1885
New Orleans World Exposition is held and three books introducing New Orleans are published; Gombo Zebes, Historical Sketch Book and Guide to New Orleans, La Cuisine Creole.
1887
Stays on Grand Isle and writes Chita, Some Chinese Ghosts.
1887—1890 Martinique, West Indies
| | |
| --- | --- |
| 1887 | Hearn travels to Martinique, the West Indies to write for Harper's, where he stays for two years. |
| 1889 | Hearn arranges to visit Japan to write articles for Harper's. |
| 1890 | Hearn leaves New York on 8 March for Japan. |
1890—1904 Japan
1890
Hearn arrives in Yokohama on 4 April; cancels the contract with Harper's; Basil Hall Chamberlain finds him a teaching job in a Matsue Middle School.
1891
Starts to live with Setsu Koizumi.
In November he moves to Kumamoto to teach English at Kumamoto Fifth High School.
1893
His first son Kazuo is born.
1894
Moves with his family to Kobe to work for the Kobe Chronicle.
Glimpses of Unfamiliar Japan.
1896
Becomes a Japanese citizen and formally adopts the Japanese name "Koizumi Yakumo"; moves to Tokyo and becomes a professor of literature at Tokyo Imperial University.
1897
His second son, Iwao, is born.
1899
His third son Kiyoshi, is born.
1903
Tokyo University revokes Hearn's foreigner's salary. Hearn's one
daughter, Suzuko, is born.
1904
Hearn assumes the post of lecture at Waseda University.
Kwaidan.
(age 54) Hearn dies of heart failure in Tokyo on 26 September.
Japan—An Interpretation.